The most successful people know themselves, how they act and react, and understand the actions and reactions of others !  And you can learn them too!
Sign-up to the right to join this complimentary telecall for the next 6 weeks and receive the 40 pg. manual.
WHEN:  Wednesdays at
TIME:  1:00pm MST 3:00pm EST
Join the "Holiday Schmooze a'Palooza" and enjoy a few interesting stories Sue's collected over the decades of working with, and training in Personality Styles. You'll learn the secret to finding success with and through people. Please write me with any and all questions that will help you understand people, any and all people!  (not including mental-health issues)
This Holiday would you like the secret to being around your relatives without letting them drive you crazy?

Did you know the first step to success is knowing yourself and others, how you would act and react.

Are you tired of being everything to everyone, and instead want to be YOU, discovering the REAL, AUTHENTIC YOU, then this palooza is for you.

Uncover YOUR strengths and skill-sets that will GIVE YOU THE CONFIDENCE to go for your dreams in 2013.

Learn to magnetically, naturally draw the right people to you in your business as clients.

Find the perfect collaborative partners with whom you enjoy working.

Receive the KEY to building the most AMAZING TEAM around you, one where you can accomplish more in this next year than you ever thought possible.

Or if you have a team, learn which ones are out of place, and how to reposition them for their success and yours, exponentially!  (Nothing can hold you back more than having the right people, but in the wrong seats.)
This is the same information Sue has personally used to develop teams in two different billion dollar companies to coach the executives and staff through conflict resolution, team building, and to find the right new hires for new positions.
You will learn an easy to detect system to determine which of the Four Basic Personality Styles a person displays. This information is like having a crystal ball that reveals their strengths and weaknesses or limitations.  It's astonishing how accurate and fun this Personality Style System is, not to mention practical, and vitally useful to one's business and life!
You will be gifted with a one year subscription to "Tips For Accidental Leaders" worth $97.
Strategically Create the Life and Work Worthy of your Talents, Giftings, Education and Experience
Take A Behavioral Style Profile to learn your strengths and weaknesses.  Contact me for more information.

Take a Strengths Finder to compliment the Personality Profile

Interview your parents, assuming you have a good relationship with them, and ask them what they saw in you as a child, i.e., the strengths they perceived in you that would translate into a career, or other direction for your life

Ask 5 friends what they see you're good at and one thing they see you might work on for greater success

Deal with any and all childhood issues that could be showing up as blind-spots, limitations or weaknesses.  This is KEY to your progress.  Ask me for more information if this intrigues you, as I have a workshop that could get you started, and would gladly tell you about my experience with it

Learn to use the 24 hr. Rule, to get over a crisis, disappointment, or a "win", and keep yourself moving forward. (I've written on this in past posts, and will write on it again this week.)

Begin a "Gratefulness Journal" and write every day of at least 5 things you are most grateful/thankful for.

Take a class on "Time Management", creating systems for every area of your life and work

Create your own personal "Mission Statement" and choose 5 to 8 values by which to base, and use as a plumb-line,  all the major decisions you make life

Once a year go on a week or month long "Negativity Fast" where you allow family and friends to fine you if you say anything negative about yourself, others, or circumstances.  You'll be amazed at how cleansing this is!  Take it up a notch and add not listening to any negativity as well!

Determine from now on to make decisions based on living out your values and Mission Statement.

Find a mentor.  Look for 2 people you admire in different aspects of their life, and then ask them if they would consider mentoring you.

Create some form of self imposed accountability for yourself.

Learn to be a better communicator, especially in the area of listening.  Most leaders get into trouble more by not listening than by talking.
Stay tune for the rest of the list of 20things, and how to get some help accomplishing these in the next post!
Did someone wave a wand and say: "POOF", thou art a manager –NOW  LEAD!
Are you, or someone you know, in the wrong role/position in your company?  Did someone wave a wand and say: "POOF", thou art a manager –NOW  LEAD!  But you have NO CLUE WHAT THAT MEANS or what you're to do differently?  There could be all kinds of reasons you're out of position:
Your personality doesn't align with the requirements of the role – i.e.  say the position needs someone who is commanding, one who is able to change easily and move quickly.  However, you're a process person and like large amounts of details to then check, double check, and even triple check before you make a move. If so, then you'll be frustrated in this role, along with making everyone around you frustrated.

Talents – say you're very gifted with high amounts of creativity, but you don't have an outlet to use it . . .

Your education didn't support this role, and you've been struggling to try to make it work, but no matter how hard you try, you feel like you're always behind.

The experiences you've had didn't prepare you for this role, and your interests don't align either
This doesn't mean you're bad or wrong, it just means that this role/position is not a natural fit for you.  You can still stretch yourself and take on the role.  However, be aware that it will take considerably more effort, energy, and possible skill sets you don't now have to fulfill.  Not to mention you may not enjoy it.  Another way you'll know you're not in the best role for you when required to be THE leader, is if:
Setting the big-picture vision isn't natural for you, and instead is difficult!


Directing people – such as:  Providing them with the instructions as to what to do, which may be impossible for you to do – due to your personality style.  For some personality styles, and I know it's hard for some of us to fathom, this would mean confrontation to them.


Correcting and leading people is difficult and/or frustrating for you, so you'll avoid it like the plague!

If these sentences resonate with you, then you've got another clue that you are an "Accidental Leader".  If so, then one solution for you is to acquire a Business Coach to assist you to discern why you may be discontent, ineffective, and possibly even miserable in the position you're currently in.  If you do, then you'll receive the assistance to be successful!
On a positive note, I've had the most amazing opportunity to pursue what I've loved, and what fits me, for the past 35 years.  Because of my supportive husband, I was given the gift of creating and designing a career that I thrive in, am passionate about, and which gives me the ability to continually grow with and into.  My life mission emerged from one class here and an experience there.  As a result, along with my personality, certifications, and education over the years, it has slowly emerged, until one day I realized I was The epitome of an "Accidental Leader".  I didn't begin with the end in mind, as Covey recommends.  I didn't set out to be a "Business Coach", that didn't exist when I went to college.  And I didn't set out to pursue being a leader or trainer, however I was strategic about each small thing I pursued, until it cumulatively transpired into this awesome role called a Business Coach, Executive Coach and Corporate Trainer.  Like a puzzle that emerges from the similar colors, shapes, and connectivity of its' pieces, I now help others to be strategically excellent, by making sure their life and work aren't built upon accidents, but on the best of what they bring to this world, aligning themselves with the people they're suppose to connect with and serve.
ENTREPRENEURS CAN LEARN PREPAREDNESS SKILLS AND UNSHAKEABLE CONFIDENCE FROM MICHAEL JORDAN
Michael Jordan was being interviewed regarding how he would respond if he were faced with 0:01 second left on the clock at Game 7 of the NBA Finals, and his team is down by only one point.  He's holding the ball at the free throw line, giving him two shots.  If he makes it, his team wins their first ever championship, but if he misses, they lose. The questions the interviewer, Susan Guzzetta, posed to him that day were the same ones I want to ask of you if this were your situation:
How would you feel?

Would you be nervous?

Would you be distracted by all the opposing fans screaming, stomping and waving their hands, purposefully attempting to move you off your game by breaking your concentration?
"Michael", she said "How do you handle an uncomfortable situations like this, whether it's in basketball, business or life?"  And what he said, as business owners/entrepreneurs, we can take to heart and implement ourselves!   He said, "That's easy, that situation wouldn't bother me because I would have already disciplined myself to make sure I had already prepared for success in that or any other situation!"
Are you?  Are you disciplining and preparing yourself for success in every area of your life?  Are you hoping and wishing that this is the year that will be different, but haven't made the plans necessary to see it come into fruition?  Or are you taking the steering wheel of life, and making plans, setting goals, and practicing the preeminent skills necessary for you to BE prepared to be a SUCCESS in 2012:
Set GOALS in every aspect of your life and business, specifically high impact goals which will most affect the change or transition of your life/business

Chunk them down to be bite sized

Make a plan to accomplish them with a

Create a date by which each goal be accomplished
Remember, without a strategy, you're just wishing, just as you've done every year!  This is the year to take a wish and make it a believable PLAN of ACTION whether you're a boomer, Gen X'er or Millennial business person!  Every generation needs an ACTION PLAN.  Then once you have this, don't stop there, go one step further and hire a coach to hold you accountable, and to support and cheer you along the way.  Do each of these steps and I can guarantee, with this you will gain unstoppable confidence and will reach your goals in 2012.
The Key Benefits of Enlisting a Business Coach 
The other day I was meeting with a woman who asked me, "Sue I know what a Life Coach does, but I don't know the purpose of an Executive/Business Coach?"  Well, it's not counseling, and it's not consulting, although I shift into this mode frequently.  The best way I can describe it is for you to think of a coach of an Olympic Athlete.  Now, that elicits exactly what we do, but for a business leader.  We are your greatest supporter, your cheerleader, and a bit of a velvet brick.  Our purpose is to ensure you become successful:
To challenge, develop, and assist you in improving your leadership skills.
Uncover and develop your unique leadership style.
Provide essential feedback regarding gaps in your skills and abilities. Discovering feedback in a safe, private environment.
Reveal so you can abort any self-sabotaging ways which would jeopardize your leadership and your job.
Expedite the improvement of your time management and organizational skills.
Help you to develop greater abilities in making appropriate, time bound decisions.
Establish concrete goals for change and progress.
Someone to hold you ACCOUNTABLE to do the things you know you need to do, to become the leader you aspire to be.
A uniquely rich development opportunity to truly discover all you were meant to be.
Have a non-partisan, non judgmental, objective third party who is an impartial sounding board.
Assistance to execute key business initiatives.
Help in balancing work and life priorities.
Cultivate exceptional ability to influence those you lead.
Development of your unique personal mission, vision, and values.
Reduce turnover while building loyalty and retention.
Successfully navigate the white waters of conflict.
Enhance and fine-tune your decision making skills, learning to appropriately evaluate business risks, while navigating any politically entrenched environment.
Inspire peak performance in employees by employing fresh leadership insights.
Contact Sue right now, with the e-mail below, to set up a complimentary Discovery Session to explore if Executive Coaching is right for you right now.  Sue will be doing the same, discerning if you're a good fit, as a client, for her.  If all is compatible, we then co-create a plan that works specifically for you, and your specific needs. Contact Sue at AccidentalLeader@comcast.net for more information, and to set up our Discovery Session.
You Can Create Your Dream!

You can take your business from ordinary to extraordinary by living an extraordinary life! It all begins with you, and the decisions you make. It starts with one small decision built upon another, and by managing your options. What you do today will reap a reward tomorrow. Make the right things habitual, and watch your life evolve exponentially. So how do you begin? Extraordinary business owners start their day doing those things which are:
Necessary not necessarily interesting

Difficult but obligatory, like eating the worst tasting vegetables

Exasperating but essential – Just do it!
Do this and you're called "RESPONSIBLE" a "LEADER". Responsibility, as well as leadership, means you've learned the buck stops with you. Even if you have a new, fun or exciting opportunity emerge during the day, it's no excuse for not doing "First things first!" as Steven Covey would say! In fact, another quality of an extraordinary business owner is that you don't make excuses, it's not a part of your vocabulary, or your life. As well, you create processes and systems for anything you possibly can.  Then, if things aren't working, you can be assured you're not working your systems. You may not be providing the leadership needed to make a demand on yourself. That's right, you have to lead yourself! To be extraordinary, you must follow-through and take initiative to do the 20% of items that will bring you 80% return financially.  Once you do, your confidence will soar, your belief level will climb, and success will be imminent.
YOUR COACHING MOMENT:
Let me ask you:
What's stopping you?

Where can you up your game, put business systems in place?

What do you need to clamp down on – in your day, with your time?

Are you making a list every night – to be sure you're doing the 20% items that bring you the 80% return?

Are you managing your time, or is the tyranny of the urgent dictating your day?

What can you turn into a system for greater effectiveness?
I heard a saying that has stuck with me to this day:
If it's going to be, it's up to me! – Now, once you've been that responsible leader, business owner, be sure to have FUN! You only have one life, so enjoy the journey, not just the dream. It's why you're paying the high price of your time in the first place!
What are you doing that is taking you on the path to having an EXTRAORDINARY BUSINESS? I'd love to hear, and showcase your story.
Would You Like to Have Clients/Prospects be Drawn to You With Magnetic, Or Pull Marketing?
Yesterday we went over, in detail, the difference between trying to sell prospects on your product/service by telling them about your value and benefits as opposed to giving them lists of the features.  It takes a little more time to think and prepare what you say, but like any skill, the more you change your mind-set and give the benefits and values, the more clients/customers will be automatically drawn to you!
Features for a service such as Executive Coaching, the features I provide are:
Certified Executive Coach, and Certified Mastermind Executive Coach along with CPLP certification (interesting yet?  Of course not!)
32 years experience including coaching the top 3 executives of a billion dollar public works engineering project for three years (maybe)
Coaching can be done virtually
Here's the translation from the above into VALUES and BENEFITS:
Have the peace of mind and confidence that you're dealing with an experienced professional who has dealt with every kind of situation imaginable. Sue will provide you with options to get you unstuck, and skills to assist you in reaching your full potential while helping you leap-frog to top levels of your industry.
Establish and reach your goals in a third to half the amount of time it would take you to do it on your own, because you have accountability to fulfill the  plans that you have develop and agree to.  You're at the helm.
Envision sitting in your pj's or your most comfortable attire, at your favorite spot, during the best time of day for you, while receiving encouragement, and assistance by your own personal trusted mentor, who genuinely cares about you and your success.  I'll partner with you each step of the way, assisting you in reaching your personal mission and why you were put here in this life, at this time in history!  I'll help you work on leaving YOUR individual MARK in this world!
People want to know, and will buy according to what products and services can do for them, NOT because of the features they have. It makes all the difference in marketing plan and its effectiveness as to whether you're selling FEATURES as opposed to offering the VALUES and BENEFITS.
EXAMPLE:  Charles Revson (not a typo), then CEO of Revlon Company, was once asked to describe what his company sold.  Listen carefully to what he said, and then compare it to the above information.  He said, "In the factory we make cosmetics, but in the stores we sell hope." He didn't sell them on the products, but what the products will ultimately bring them, and who doesn't want HOPE!
So, next time you're asked what you do, don't give them the features and attributes. Wow them with the benefits and value you bring to the table.  You don't have to sell, just share the "right" information and watch them buy.  People don't like to be sold, but they do like to buy! Let them see in their minds-eye how you can help them fulfill their hopes and dreams, and they're yours, your customer/client.
Your Intentional Coaching Moment:
1.    Make a list of all the features of your products and services.
2.    Next, using the questions above, translate these features into benefits and values.
3.    Now go share this information with three people and ask for their feedback!
March is dedicated to "Overcomers!" Those who won't be held down!
So, let me ask you, do you:
Complain about your employees at least once a week?
Freak out about customers, and how they treat you?
Feel like you're going to have a melt down, or are having regular melt downs?
Have issues once or twice a week that throw you into emotional turmoil?
Feel like everyone takes advantage of you at some point?
Feel like your employees are lazy, unmotivated, getting away with things? Then as a result, come home to your family in knots a lot?
Blow off steam at home regarding your business or work, once or twice a week?
Have difficulty making decisions, or sticking to them?
Hold back from making changes because of the possible consequences?
Keep thinking things will change, but aren't doing anything to create the change?
Have customers or clients that are frustrating, demanding, and are holding you hostage because you allowed them get away with treating you a certain way once, and now they keep expecting it?
Keep employees who shouldn't be there?

Won't deal with their issues?
If you said yes to two or more of these, then you are a "VICTIM OF YOUR OWN CIRCUMSTANCES". It's your interpretation of the circumstance that is holding you hostage. And because of the interpretation, you haven't been taking the responsibility necessary to "be" a confident leader that rises above his or her circumstances! Instead you need to:
· Communicate your feelings and standards of operation, then make it stick, along with consequences. Establish boundaries of behavior, for yourself and others. Clearly communicate what your expectations are. If you haven't done this, then it's not the fault of your employees or customers/clients. You are allowing yourself to be the "VICTIM". In fact, if this has gone on for any length of time, then you are not only used to being the "victim", but you probably continually put yourself in this position, because this is how life goes for you, and you expect it. It's what you're use to. If so, you need to get some coaching or counseling, depending upon how deep this trend goes. It is not a sign of failure to get help. Everyone, and I mean everyone, at one time or another, needs this kind of assessment and help!
· Learn to take charge of your emotions. YOU CAN dictate your emotions and circumstance, and how they affect you, rather than allowing your emotions and circumstances to dictate and run your life. Refuse to allow them to throw you into the whirlwind ever again. Say "no" to being a victim – take charge – and accept responsibility from this day on. Here are some great resources for you:
o "Maximum Achievement: Strategies and Skills That Will Unlock Your Hidden Powers to Succeed by Brian Tracy
o No Excuses!: The Power of Self-Discipline by Brian Tracy
o Great Little Book on the Gift of Self-Confidence by Brian Tracy
o Awaken the Giant Within : How to Take Immediate Control of Your Mental, Emotional, Physical and Financial Destiny! by Anthony Robbins
o Developing the Leader Within You / Developing the Leaders Around You (Signature Edition, 2 Best-selling Books in 1 Volume) by John C. Maxwell
o The 7 Habits of Highly Effective People by Stephen R. Covey
And these are just a few to get you started. Don't wait. If you're not a reader, get them on CD and listen to them in the car or when you're getting ready in the morning. The key is to get started and do something to change your thinking to change your life!
As a Business Leader, Have You Asked These Questions or Used These Resources?
I've recently had a couple of new clients who were struggling with moving forward. After assessing their business, I discovered one element holding them both back, which you may relate to. So let me ask you, do you have a niche, a target audience? If you do, have you collected market intelligence on it? Before you do much marketing at all, this is imperative. Do you know what your target audience is watching, reading, listening to? Are they male or female? What size is their business? What do they do in their free time? Most know a specialist makes more than a generalist, and is also seen as an expert in their field. I could write an entire chapter in a book filled with ways to discover and narrow down your niche, with questions you can ask like: "How do you differentiate yourself and your business from every other person who targets your niche?" and "What can you provide to your niche that no one else does, in a way in which no one else will?" I can also elaborate on all the tools you can use to research your niche, like Digg , where you can find the most interesting and best content your niche is using on the web, or Google Trends , which will clue you into what's hot in the search engines, and Quantcast.com , that gives you public information for your niche on the popular websites, so you can discover and then visualize what it might be for your own. I could do this, like hundreds of articles you can easily find on Google that describe these tools, and how to use them. As a matter of fact, I have other materials I've written where this is included, but pt. II of this article deals with WHY YOU HAVEN'T or WON'T choose your niche, and more profoundly its implication! If you haven't picked your niche, then from this I can extrapolate you're probably stuck, and may have been for a while. You're stuck on a treadmill that's going round and round, marketing everywhere to everyone, with every method, and you're genuinely working harder but unfortunately not smarter! And, you may be on the verge of burn-out. You see, if you haven't isolated you niche, found your tribe, your target audience, one that moves you, inspires and motivates you, then you're, like "The Man, the Boy, and the Donkey "! That teaches when you're trying to be all things to all people, you'll ultimately loose the very thing you're trying to save.  This will paralyze you, or at the very least limit you from your most brilliant self where you'll have a laser sharp focus. Don't stop reading here, because Part II of this article will deal with "why" you are finding it difficult to choose your niche, your target market, and the implications of this to the rest of your business, as well as how to get unstuck and build confidence!

John Maxwell – The Secret to Success
Dr. John C Maxwell has been my virtual mentor for over 30 years. I have read most, if not all his books, and appreciate his leadership integrity, character, morals, and inspiration. Before you can set goals you must know this first. Watch now: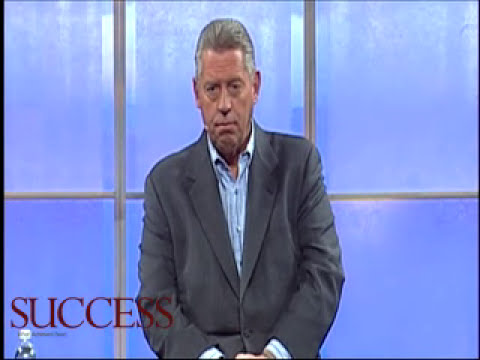 It's a compass that will align and keep you on track. Each goal you make must link to this, or you will be off track and out of focus. Here's to you!